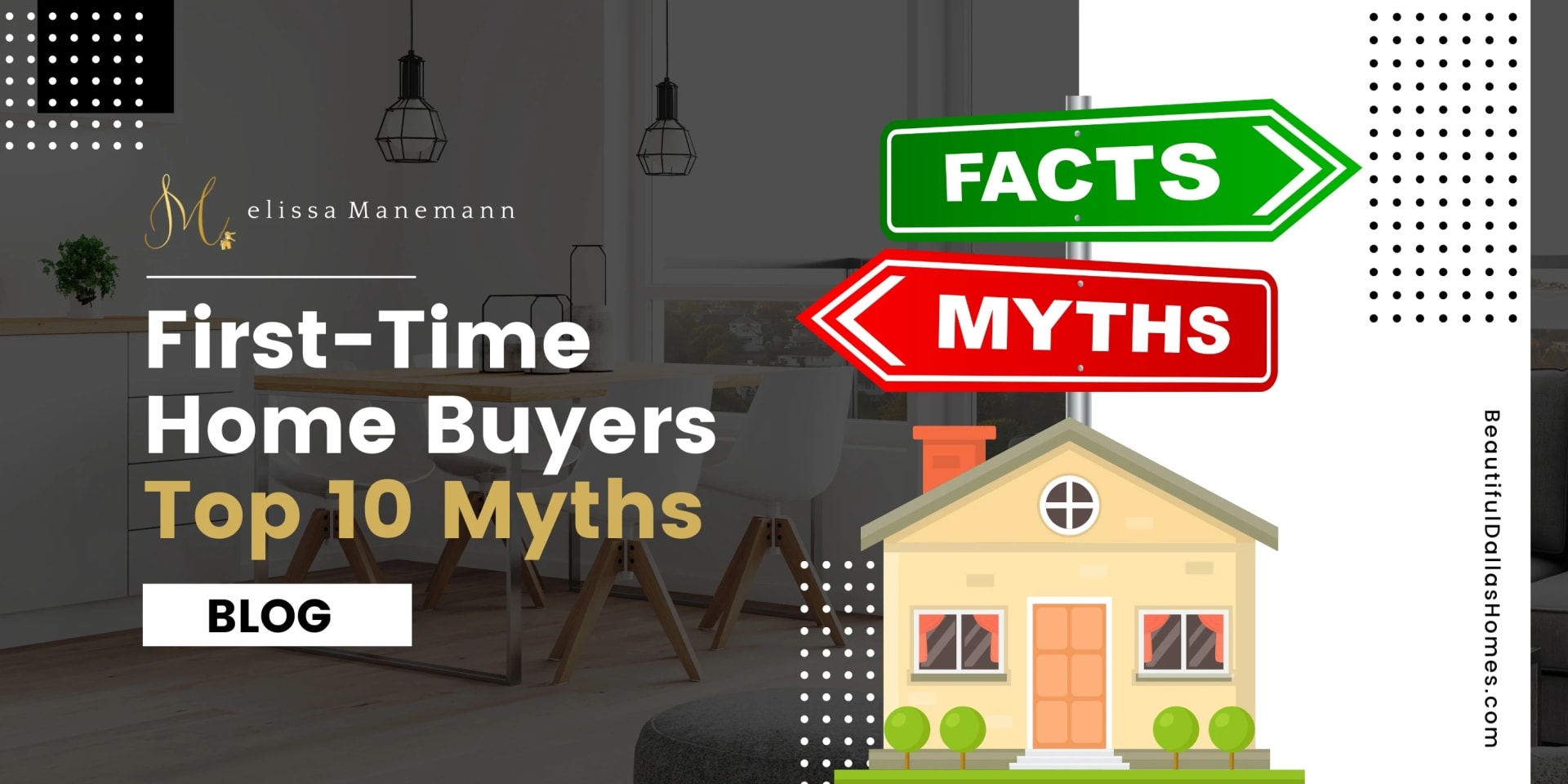 If you're thinking about buying a home, family and friends will be eager to provide you with advice. Social media and TV will add to the mix which tends to add to the stress first-time home buyers may feel with so much information. It's hard to know what information you should rely on since it can be a challenge to distinguish fact from fiction. Social media and TV tend to serve up content for entertainment purposes so you just don't know what is real or not.
That's why I would like to share the truth behind some of the most common home buyer myths and misconceptions. Buying a home for the first time or honestly, at any time, is a big decision. It doesn't have to be stressful or scary if you can surround yourself with experienced professionals that can support you every step of the way.
Don't Fall for These Common Home Buyer Myths
Myth #1: You Need a 20% Down Payment.
There are actually some (although rare) loans where you don't need any down payment. There are qualifying factors for this so ask your agent if you may qualify. Regardless, many buyers, not just first-time homebuyers purchase a home with a down payment of less than 20%. With reasonably good credit, you can buy a home with as little as 3-5% down. Obviously, the biggest down payment you can make is always in your best interest.
A good lender or mortgage broker will provide you with multiple options that allow you to have a lower down payment. Since you're putting less money down, you're a riskier borrower to your lender than people who put down a full 20%. Because of this, you will most likely need to pay mortgage insurance as part of your monthly payment.
Myth #2: Real Estate Agents Are Expensive.
Your agent is there to ensure that throughout your home-buying journey you are not making any unintended expensive and risky mistakes and you are planning for the future with your home purchase. He or she spends countless hours behind the scenes in experience, education, and research that is focused on achieving success. It sounds like having an agent is expensive, right? Well, not for you. Buyers usually don't pay a real estate agent's commission. Your agent's fee is paid for at closing by the seller or homebuilder of the home you're buying.1 The seller or builder knows to factor this cost into the property's total purchase price.
Myth #3: Don't Call a Real Estate Agent until You're Ready to Buy.
You may feel like consulting with an agent on your future buying plans is premature and you are "bothering them." Any good agent will tell you that they would rather provide a buyer consultation as early in the process as possible.
This tends to minimize misinformation, stress, and frustration when buyers have a good roadmap of what to expect and how to prepare. In my experience, I find that buyers have lost out on opportunities to buy a home during the time when rates or prices were lower because they based their home-buying decisions and timing on misconceptions. Even if you're in the very early stages of casually browsing online real estate sites, a real estate professional can be a huge help before you get serious about buying.
It would be helpful if your agent creates a customized search from you from the MLS (multiple listing service) so you can begin to study and review homes that meet your criteria. The MLS is the main database that feeds popular home search sites like Zillow and Trulia. Setting up a search a few months before you're considering buying gives you a good idea of neighborhoods that are in your budget so you have a better idea of what to expect once you are ready to start house hunting.
Myth #4: Fixer-Uppers Are More Budget-Friendly.
It is common for first-time buyers to consider a home that needs work so that they can make it "more of their own." With several shows on TV that focus on the positive aspects of fixing up a home, it might appear this is the most cost-effective way to eventually create your dream home by picking out everything on your wish list. The reality is that renovations always tend to cost more than budgeted and managing or doing the work can be very stressful.
If you're really interested in a fixer-upper, ask your agent to show you a mix of newer homes and older homes. If you fall in love with an older home that needs a lot of work, get some quotes from contractors before you buy so you know the real cost of the renovations and see if you can work them into your budget.
Myth #5: Your only Upfront Cost Is Your Down Payment.
Your down payment is typically your biggest expense, but it isn't the only money you'll spend during the home-buying process. You will also have other closing costs. Closing costs are typically anywhere from 2-4% of the total purchase price of the home.2 This amount includes the cost for items like homeowner's insurance, title fees, and more that you pay at closing.
You'll also need to pay for a property inspection before closing, which usually costs $500-$750, depending on the size of the home you are buying. Your lender will also require an appraisal. An appraiser assesses the property to determine how much it's worth. Depending on your lender, you may have to pay this when the appraisal is scheduled or it might be rolled into your closing costs.
Myth #6: You Need a High Credit Score to Buy a House.
You don't need perfect credit to buy a home but the better the credit score, the more loan options you will have. There are loans that buyers with lower credit scores can qualify for. These are good options for people who have had credit issues in the past, but some of them come with additional fees you will need to pay. Speaking to a few local lenders or mortgage brokers will provide options for you to consider and guidance on what you can do to improve your credit score.

Myth #7: You Can't Qualify for A Mortgage if You're Still Paying Off Student Loans.
You don't need to be debt-free to buy a home as it's not a requirement. When you're applying for a mortgage, the lender takes a close look at your debt-to-income ratio.3 They want to make sure you are able to pay a mortgage plus all other existing payments. You can calculate this on your own by adding up all of your monthly debt payments and dividing the total by your monthly income. If your income is high enough to allow you to make all of these payments each month, having a student loan will most likely not stop you from getting a mortgage.
Myth #8: You Should Base Your Budget on What Your Lender Approves.
How much house you qualify for and how much you can afford are two totally different numbers. When you prequalify for a mortgage, your lender will look at your income, debt, assets, credit score, and financial history to determine how much money you might qualify for.4 For some people, this number might be much higher than you thought because lenders tend to approve you for the highest amount they think you can afford. But that doesn't mean that's how much you should borrow. In fact, I strongly encourage buyers to buy below their means.
Myth #9: It's All About Location.
You've heard the phrase. Location, location, location is the real estate industry's motto, but it's not always true. Yes, location is great to consider when it comes to school districts and commute times, but you also need to think about how the home will function for you and/or your family's lifestyle. You also are likely to move again in your life as your needs change so your first home is rarely your last home.
Obviously, you might still want to choose an area with great resale potential and this is something that your agent can speak to you about. They're an expert in your city and are constantly monitoring buying and selling trends.
Myth #10: If You Look Hard Enough, You'll Find a Home that Checks Every Box on Your Wish List.
There is no perfect house. I have helped many people with the process of building their dream home and still, in the end, it is still not perfect. Compromises are inevitable. Trying to find a house with everything you want will be frustrating. Be open to compromise and focus on the most important aspects of what is really important in a home.
A long wish list can be a great starting point for figuring out what you want and don't want, but I recommend narrowing that wish list down to prioritizing the top five things that are most important. We also recommend noting on your wish list what your absolute deal breakers are, like "must have a yard for our dog," and noting what you can live without, like "heated bathroom floors."
This is a great list to discuss when you first start talking to an agent. A good real estate agent will be able to look at your list and find properties that might work for you. By coming to that first meeting with realistic expectations and knowledge about home buying rather than myths you have heard here and there, you'll be able to start the process off on the right foot and be in your new house in no time.
Whether you're a first-time buyer or a seasoned homeowner, there's no reason to go through the home-buying process without an advocate on your side. I'm here to answer your questions and do the hard work for you, so you can spend your time dreaming about your new home. Call me today to schedule a free, no-obligation consultation.
Sources: