When people are asked about the AMERICAN DREAM, many use the words ---FREEDOM, OPPORTUNITY, PROSPERITY. New immigrants to our country especially espouse the opportunity to create a life for themselves they could not do in the country they left behind. Sometimes in our country, we forget how fortunate we are as Americans that our young country, while not perfect, it has proven itself as a beacon of hope for many who seek a better future. How does home ownership play into the American Dream?
In a recent survey by Bankrate, homeownership ranks #1 when people were asked what best embodied "the American Dream." We shouldn't be surprised how important owning a home is to the American Dream. In the graph below, it is amazing to see that homeownership outranks retirement, a successful career, or earning a college degree.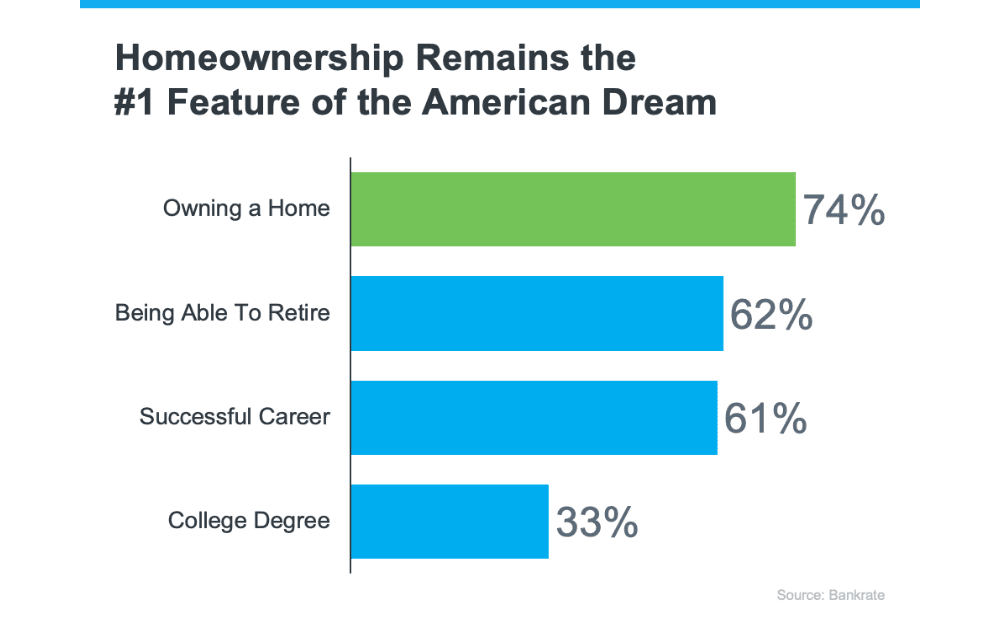 What does homeownership bring? A growing net worth from your home's equity. Your home equity builds as home prices appreciate and you pay down your mortgage each month. This equity helps build long term financial stability as with a fixed rate mortgage, your home costs remain stable. With housing typically the largest expense you have, this also helps as a buffer to other rising costs associated with inflation.
"MOST CONSUMERS (87%) BELIEVE OWNING A HOME IS IMPORTANT TO "LIVE THE GOOD LIFE..." NOTABLY, SIGNIFICANT BENEFITS ARE WAITING FOR YOU AT THE END OF YOUR JOURNEY."
From Fannie Mae Report
With home prices continuing to rise and higher interest rates, many are discouraged from buying a home and instead think waiting is a better strategy. The truth is that waiting for home prices to go down is unlikely and the Federal reserve continues to signal that rates will continue to rise at least for the rest of 2023. If you are thinking about buying, you would be in a better position to make a decision by speaking with me about your home buying and selling options if you already own a home. There are some great home buying opportunities now that honestly, will not be there once interest rates drop in the 5% rate for 30 year fixed rate mortgages. What you can bet on is that once interest rates go down, the buyer frenzy we had during the pandemic and the years that followed will return as buyers "jump off the fence" again to buy, bringing multiple offers and paying above the listed price conditions. That's for certain as homebuilders are playing "catch up" to fill the the housing deficit that is at least a decade behind U.S. housing needs.
Don't wonder if you should wait or buy now. Call me today to schedule a home buying consultation.